Understanding the Difference Between Medicare and Medicaid Coverage for Long-Term Care in Michigan
Jan 17, 2023
Why is it important to know the difference between Medicare and Medicaid?
This article discusses the difference between Medicare vs Medicaid medical insurance in long-term custodial care, also known as nursing home care, in Michigan. It is important to understand these distinctions as they can significantly impact an individual's ability to access the health coverage needed for necessary medical treatments. Medicare health insurance only covers up to 100 days in a skilled nursing facility. Most people will need the assistance that Medicaid coverage provides.
This article is not intended to provide legal advice. It is for general informational purposes only.
Summary
Long-term care prices in Michigan are increasing more than the national trend, which means that someone just using Medicare might not be able to afford the treatments they need while in the facility.

Medicare part A only covers up to 100 days in a skilled nursing facility, and any services provided after Medicare quits paying are usually out of pocket.

The question usually isn't Medicare vs Medicaid - having both Medicare and Medicaid is often the right choice for individuals needing nursing home or skilled care. Still, it requires careful planning and the right legal advice.

Medicaid is often the right coverage for those who struggle to pay the extra costs, but Michigan has recently made it harder to get it. Our firm has extensive experience and success in helping families meet eligibility requirements to receive Medicaid coverage without hassle or stress.

It's important to talk with our firm as soon as possible so that you can get the Medicare and Medicaid services you need before you pay too much out of pocket.

Medicaid/Medicare: Health Insurance Programs That Give Health Coverage Through The Federal Government
Both Medicare and Medicaid are federal programs. That being said, Medicare health insurance is administered directly by the federal government, so the rules are consistent nationwide. Medicaid is a joint federal and state program, and while many of the rules are the same, there is also wide variability in each state's Medicaid program.
One of the most significant differences is the number of personal care services each program provides. Medicaid pays significantly more, which is why it is an important tool for long-term care, such as nursing home coverage.
While most people view Medicaid programs as only for people with low income, it is important to understand that it is a federal program that is a lifeline for all people that need nursing home or long-term care, regardless of income level.
Out of Pocket Costs
When it comes to finding adequate healthcare coverage for skilled nursing facilities in Michigan, many people are dismayed to find that having a Medicare plan simply isn't enough.
Medicare part A and supplemental insurance premiums depend on the choices you make for coverage and if you've paid Medicare taxes during your working years. Medicaid health insurance does not have monthly premiums, but in some cases may require payment of all or a percentage of an individual's income.
In fact, recent research has shown that most individuals who require long-term care can expect to pay out of pocket for a substantial portion of their medical expenses. This is mainly because Medicare part A does not cover all costs associated with nursing home care and other related health care costs and services. Your Medicare premiums for supplemental insurance may be worth their weight in gold, if you need long-term care!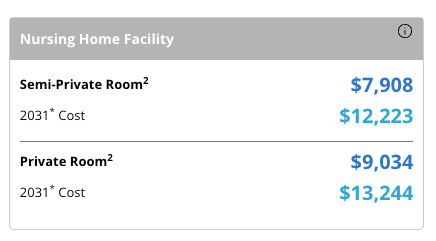 Medicare Eligibility - What Does Medicare Cover in A Long Term Care Setting?
Medicare pays 100 percent of approved costs for up to 100 days if the individual meets specific eligibility criteria, such as hospitalization before admission. After those first 100 days, or if coverage gets cut off before the 100 days (this is extremely common), any additional costs are typically paid out of pocket. This can range from supplemental insurance fees and payments for uncovered medical expenses to room and board fees. Moreover, many skilled nursing facilities offer short-term rehabilitation programs that can last up to 90 days; however, these services may not be covered by Medicare Part A or Medicare Supplement Insurance and may require additional out-of-pocket patient payments.
Private Companies Do Not Provide Much More, If Any
This is true for health care coverage through most private insurance companies, as Medicare and private insurance limit services.
Medicaid Eligibility For Long-Term Care
In most cases, the patient needing care needs to not only have a qualifying disability and be in a facility that accepts Medicaid payments but also be of limited income/low income and have limited assets.
That being said, income level and assets are not as simple as they may seem, based on what you may have heard. That is where having a qualified elder law attorney makes all the difference because we know how to make the legal rules to receive both Medicare and Medicaid benefits in a long-term care setting such as a nursing home or skilled nursing facility work for you.

The State Medicaid Program is Under Stress
Even worse, Michigan has recently begun to take it much more challenging to receive Medicaid reimbursement to cover uninsured or underinsured residents' health care needs in skilled nursing facilities. Although the state still provides medical services through its Medicaid services program, there is an increased emphasis on private payers—which can lead to an even more significant financial burden on those seeking long-term residential care options in Michigan.
The Good News? We Know How To Help You Access Benefits To Pay For Care.
Our firm has extensive experience in the difference between Medicare and Medicaid - and success after success in helping our clients obtain Medicaid eligibility.
Contact Us Today: (248)278-1511
Costs Are Rising - A Lot
Putting even more stress on Michigan families, the cost of long-term care continues to rise each year throughout the state. According to Genworth's 17th annual Cost of Care Survey, the increases in costs in Michigan already surpass national trends, and the fallout due to COVID-19 will put even greater pressure on future costs. As the image shows, the costs for care between 2021-2031 are very steep. The question is, are you ready? (How do you get ready? You contact us!)
Even before COVID, data from the Center for Healthcare Research & Transformation (CHRT) told us that skilled nursing facility costs increased by nearly 30 percent between 2010 - 2019 alone! As such, individuals who rely solely on Medicare coverage may find themselves unable to afford the cost of necessary medical treatments and related expenses when admitted into a facility. That is why, for many, a combination of Medicare and Medicaid is the best solution.
We Have Relationships With Nursing Homes - And It Matters
In addition to rising healthcare costs and decreased Medicaid reimbursement rates, there is also a shortage of quality nursing homes in Michigan; this shortage has been mainly attributed to decreased government funding for these facilities. Due to limited resources available for quality maintenance and staffing requirements often going unfilled across the state due to low wages offered by nursing homes—many seniors are unable to access needed supportive services such as physical therapy or occupational therapy that could help improve their health outcomes during their stay in a skilled nursing facility.
This is yet another reason to work with a qualified elder law firm such as ours. We have relationships with facilities that can help smooth the path to entry to a quality facility.
Medicaid & Medicare: Medicare Isn't Enough
All things considered, it's clear that a Medicare part A health plan isn't enough when it comes long-term residential care within Michigan's skilled nursing facilities; individuals need even greater assistance in accessing benefits to pay for care to accommodate rising healthcare costs and decreased reimbursement rates without sacrificing quality care. Without these options, many seniors could end up paying out of pocket far more than they would be able to expect under a traditional Medicare part A plan—which adds a significantly more significant financial burden resulting from their need for long-term residential care options within Michigan's increasingly expensive healthcare system.
Medicare And Medicaid: A Winning Combination for Long-Term Care in The Nursing Home
In conclusion, while there may be similarities between Medicaid and Medicare-covered services under Medicare part A and supplemental insurance in a skilled nursing facility in Michigan, there are also important distinctions between them when it comes to what type of coverage is available for various medical treatments in long-term custodial care. Often the choice isn't Medicare vs Medicaid - you need both. Understanding the difference between Medicare and Medicaid in Michigan for skilled nursing care can make a significant difference in obtaining assistance to pay for care, so it is essential to consult with an experienced elder law attorney before making any decisions.
Learn more about Michigan Medicaid Applications here.
When it comes to long-term and nursing home care, we are the experts! Get the assistance you need.

estate lawyer near me, michigan will laws, elder law attorneys, national elder law foundation, elder law lawyers